…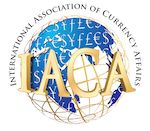 IACA Excellence in Currency 2020 Technical - Awards Finalists & Judges
17.04.2020
The International Association of Currency Affairs is proud to announce the Finalists for its Excellence in Currency 2020 Technical Awards. The Finalists were determined after evaluation by panels of expert judges.
The judges for the categories of Best New Currency Feature or Product and Best New Currency Innovation were: Jan Binnekamp (De Nederlandsche Bank), Lydia Yip (Ex Hong Kong Monetary Authority) and Richard Wall, Brian Lang, Tom Ferguson, and Eugenie Foster (IACA Directors).
In addition, for the category of Best New Environmental Sustainability Project, IACA was fortunate to have two guest judges: Antonio J. Arrieta (European Central Bank) and Kathy Pritchard (Tryskele Sustainable Environment, Health & Safety).
Antonio J. Arrieta started his career as a Production Manager and Products Development Manager in different industrial companies and joined the European Central Bank (ECB) as Senior R&D Expert in May 2000, filing eight patents as inventor. In 2008 Antonio moved to the ECB's Budget, Controlling and Organisation Division as Senior Investment Expert to develop and implement the ECB's KPIs system. Three years later, he integrated the Currency Management Division, where he coordinated the development of the new framework for sourcing of euro banknotes as Principal Production Expert, including environmental requirements for euro accredited manufacturers, and chaired the Environment and Health & Safety Experts Group of the Eurosystem. In 2020 Antonio moved to the Currency Development Division to take the responsibility of Lead Expert/Environmental Coordination in Directorate Banknotes of the ECB.
Antonio holds a BEng in Chemical Engineering, an MEng in Printing and Papermaking Engineering, an MBA in Management of Production, Quality and Technology, and a PhD in Economic Analysis. In his free time, he serves as President of Eurhope Wohltätigkeitsinitiative e.V. a charity initiative organised and managed by ECB staff.
Kathy Pritchard is President of the strategic consultant group Tryskele Sustainable Environment, Health & Safety (EHS) serving both the Canadian and international private sectors and government. A chemist with over 25 years of industry, operations and management experience, she has years of experience in printing and the currency field, including various positions at BA Banknote in Canada, contracts for EHS and lifecycle assessments for banknotes, and 3 years as Director of Environmental Affairs (Canada) for Quebecor Printing. Kathy is a senior lead EHS auditor holding professional designations as an Environmental Professional - Certified Environmental Auditor [EP-CEA] (i.e. compliance) since 1997, an International Organization for Standardization [ISO] 14001 Environmental Management System Lead Auditor [EP-EMSLA], and is also a qualified lead auditor for the following management systems standards: ISO 9001 (Quality Management) and ISO 50001 (Energy Management) and Occupational Health and Safety Assessment Series [OHSAS] 18001. Kathy has represented industry on various government and industry association environmental committees, analyzed and developed government and industry air emissions and pollution prevention strategies and is the President of the Auditing Association of Canada (AAC).
Best New Currency Feature or Product Finalists
Satellite Hologram Feature - European Central Bank
Projection Based Image Feature - The Reserve Bank of Australia with The Walt Disney Company
Optimising the Visualisation of Security - Central Bank of the Bahamas, Thread in Banknotes Landqart AG, Canadian Banknote Ltd.
Oman 50 RIAL - Central Bank of Oman varifeye CC Patch Louisenthal Papierfabrik Giesecke & Devrient
Solomon Islands New $5 - Central Bank of the Solomon Islands Featuring SUSI Flip™Note Printing Australia
Best New Currency Innovation Finalists
KINEGRAM APL® - LEONHARD KURZ Stiftung& Co.KG
Singapore Bicentennial Commemorative - Monetary Authority of Singapore note pre-order process
Hybrid Micro and Nanostructures - Nanotech Security Corp.
Advanced DLR Analytics - De la Rue

Best New Environmental Sustainability Project Finalists
Earth 365-challenge carbon footprint - Oberthur Fiduciaire
Banknotes - how a value - Louisenthal Papierfabrik chain becomes sustainable
Actions towards environmental - Banco de la RĂ©publica Colombia sustainability
Optimising the Guardian - CCL Secure PTY Ltd manufacturing process
De La Rue's Carbon Neutral Banknote Service - De La Rue
Similar news